For Students
Summer practice at Erzincan University, Turkey
I.K. Akhunbaev Kyrgyz State Medical Academy and Erzincan University signed a cooperation agreement in 2016. The subject of the agreement is scientific and educational cooperation between universities on the development of scientific research, scientific exchange, teaching education and cultural exchange. The agreement provides:
Organization of international conferences and seminars;
Exchange of scientific literature;
Carrying out various scientific researches;
Exchange of teachers and students of various programs within the framework of academic mobility;
Exchange of scientists, doctoral students and post-graduate students;
Professional development of teachers, scientific and professional training of students;
Exchange of curricula, methodological literature and software.
On the basis of the agreement, within 4 years, a one-month internship for KSMA students at the University of Erzincan is carried out.
Practice is held on the basis of Erzincan University Hospital for students majoring in "General Medicine" and "Pediatrics".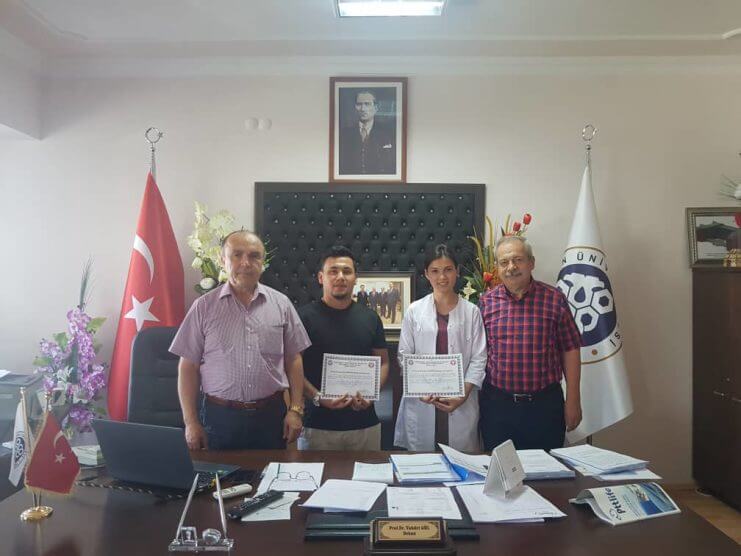 Students of the faculties "General Medicine" and "Pediatrics" at Erzincan University. Summer, 2018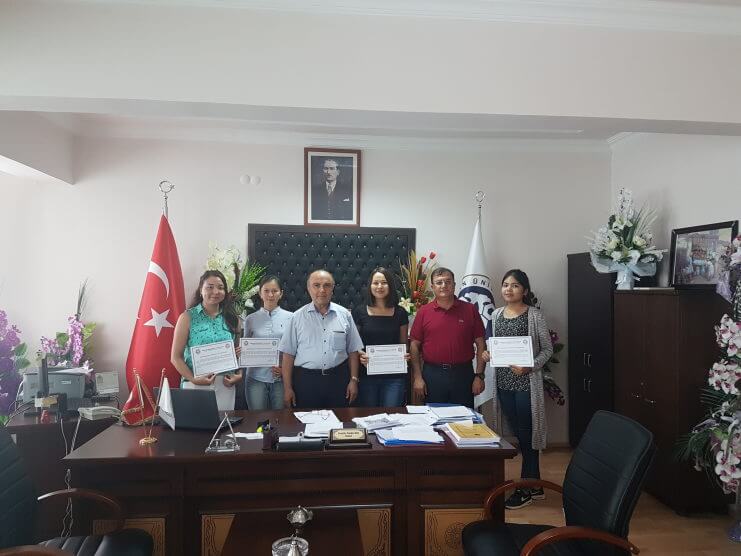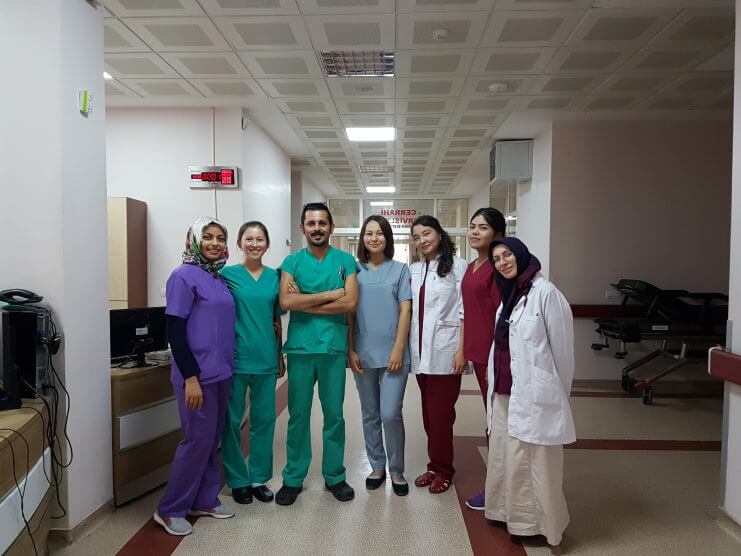 Students of the faculty "General Medicine" at Erzincan University. Summer, 2017
For 4 years of agreement 8 students of KSMA completed their pratice.
Requirement to candidates:
Excellent and good academic performance;
Knowledge of Turkish (level C), English (Advanced)
Active participation in the life of the Academy.
Accommodation, meals and round trip at the expense of the student.
The necessary documents are submitted 3 months before the internship.
List of documents:
A copy of the passport;
Transcript in English (extract from the gradebook);
Certificate that he/she is a student;
Internship program (internship plan);
2 photos 3x4.
Nota Bene: those wishing to apply are recommended to follow the news and announcements of the International Relations Office on the pages of social networks.
Study for clinical residents in China (Gansu)
Exchange program for clinical residents of the specialty "Traditional Chinese Medicine" at Gansu University, China
In 2016 was signed an additional agreement between the Gansu University of Chinese Medicine and the I. K. Akhunbaev Kyrgyz State Medical Academy on postgraduate education for graduates in the direction of "Traditional Chinese Medicine".
Under this agreement, KGMA has the right to send 15 graduates to study for a period of 3 years.
Basic requirements for candidates:
Have a diploma of graduation from a Higher Educational Institution

Basic knowledge of Chinese language (

HSK

1 or

HSK

2)
Academic performance and the presence of a certificate of language proficiency are taken into account.
The training includes a year of Chinese language training.
Gansu University of Chinese Medicine provides:
Free training for 15 candidates.
Access to academic resources such as libraries, laboratories, sports facilities, etc.
Free accommodation on the Student Campus.
Letter of invitation and support in obtaining a visa and medical insurance
The student, for his part, pays for:
Flight to / from Gansu Province
Nutrition during training
Upon completion of the training, Gansu University issues a Diploma of the established sample with an indication of the relevant qualification.