Department of Paediatric Surgery
Department staff
Ainagul Sultanalieva
Ученая степень:

кандидат медицинских наук

Ученое звание:

доцент

Должность:

Acting Head of the Department
Abdymalik Samsaliev
Ученая степень:

кандидат медицинских наук

Ученое звание:

и.о. доцента
Brief history
The Department of Paediatric Surgery was opened in 1972 and the first head was a talanted scientist, surgeon and teacher Professor Victor Kononov.
From 2001 to 2003 department was headed by Professor Hasan Abdurakhmanov. In 2003 the Head of the department was doctor of medical sciences Talant Omurbekov.
2003-2012 - the Head of the department was Professor Kubanychbek Adamaliev
2012 - 2015 - the Head of the department again was Professor Talant Omurbekov
Now, the department is headed by Assosiate Professor Ainagul Sultanalieva.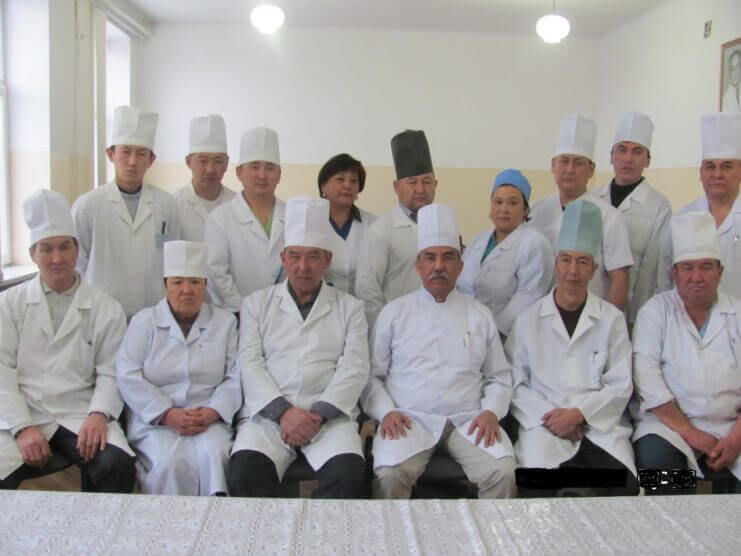 Disciplines
Paediatric Surgery
Paediatric Traumatology
Paediatric Urology
Children Intensive Care
Intensive Therapy
Scientific Activity
The scientific activity of the staff of the Department together with the scientific Department of clinics is carried out on the basis of program – target planning of Research work of KSMA and determined by the following main programs:
Pathophysiological, morphological and immunological basis for the prevention, diagnosis and treatment of inflammatory and acute surgical diseases of abdominal cavity organs in children
The study of intensive care, resuscitation, anesthesiology in violation of homeostasis in children with the development of methods of functional diagnosis and surgical treatment for various acute and chronic diseases and congenital malformations in the age aspect. As part of this problem, the Department and the clinic is developing new methods of diagnosis and quality data processing; methods to improve the protective mechanisms of the child's body in acute and chronic purulent infection, congenital malformations; methods of treatment of purulent-septic patients, congenital malformations; methods of prevention of destruction of cell membranes and their stabilization in acute and chronic diseases, malformations and injuries; methods of prevention of diagnosis, treatment and medical examination of children with chronic surgical bone diseases,
Study of pathogenetic bases of post-traumatic reactions and post-traumatic disease in combined njuries of organs and systems in children. Prevention, diagnosis and development of the sequence of emergency surgical care for victims of polytrauma
Pathogenetic mechanisms of different stages of traumatic shock, hemodynamic parameters depending on the return and severity of injury are studied. Pathogenetic principles and methods of intensive therapy of traumatic disease in children of different age groups are being developed. Continue studies of pathogenesis of tissue hypoxia, hypovolemia, impairment of respiratory function and hemodynamics, blood coagulation, condition metabolicheskikh processes.
Scientific achievements: Cryptorchidism in children. Foreign bodies of the esophagus in children. Principles of treatment of hypostasis in children. Fibrothorax in children. Congenital malformations of the bronchopulmonary system in children. Basic principles of diagnosis and treatment of combined trauma in children.
Clinical bases of the Department
In the National Center for maternal and child health and City children's clinical hospital of emergency medical care: Department of neurosurgery; Department of traumatology; Department of first surgery; Department of second surgery; Department of urology; Department of proctology; Thoracic Department; Department of resuscitation and intensive care; Department of pathology of newborns
Contact details of clinical bases
National Center for Maternal and Child Care
City children's clinical hospital of emergency medical care