Office of Socially Educational,Organizational and Mass Work
Contact information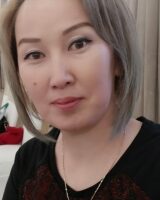 Eshimbekova Talaikul Syiymbekovna
Position:

Head of the Office
Brief history
The Office of Socially Educational, Organizational and Mass Work was created in 1939 and was called the Komsomol organization of the Institute. The first Secretary was elected L. Bukina. By 1960, the Komsomol organization consisted of 1950 people.
In 1973-1976 students team called "Medic" consisted of 400 soldiers has worked on the objects of the Yakut ASSR. For high production rates in construction and for active participation in public - political and cultural - mass work among the population the group was twice awarded the certificate of Honor of the Supreme Council of the Kyrgyz SSR, memorable tapes and certificates of the Central Committee of Komsomol, the passing Red Banner of the Central Committee of Communist party of Kyrgyzstan and Council of Ministers of the Kyrgyz SSR.
Currently, the Office of Socially Educational, organizational and Mass Work unites in its ranks about 200 people.
General information
Socially educational work in the Academy is rich and varied. It is interesting to organize leisure time of students: every year there are more than 100 events, including festive evenings and concerts, CFR ("Club of the smart and the merry"), lectures, seminars, festivals, evening of acquaintance of faculties, dedication to KSMA students, events dedicated to significant dates and events, a solemn event dedicated to KSMA graduates. Young people of the Academy take an active part in the Republican festival "Spring Bishkek", as well as in other conferences and symposia.