Systems and Software Office
Contact information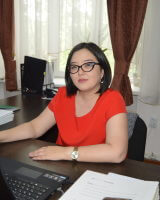 Jenishbek kyzy Mira
92 Akhunbaev Street, main building
General information
The main objective of the Office is to ensure the sustainable functioning and development of the information infrastructure of KSMA, as well as integrated solutions to the problems of computer technology in the educational process, the administrative management of KSMA and the development of a single information space.
The Office implements and maintains automated systems for the management of the University. In this regard, several subsystems of the AVN information system have already been implemented ("Admission Committee", "Testing", "Questionnaire", "Student Office", "Human Resources Office", etc.). The division has also developed a new KSMA web-site and now is providing technical support.
Employees of the Division are working on the installation of software, repair of computers and other office equipment, participate in the preparation of technical specifications for the tender purchase of office equipment and Internet.
Currently, the Academy has a single information local network, which provides free access to the global Internet.