Department of Foreign and Latin languages
Conrtact information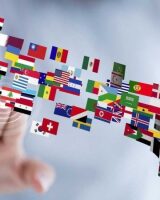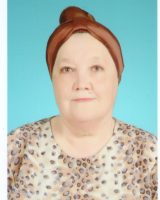 Galiya Sarasovna Zamaletdinova
Academic title:

Assosiate Professor

Position:

Head of the Department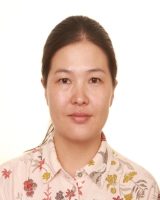 Kolbaeva Medina Dzhaylobayevna
Position:

Senior lecturer
Tentimisheva Burul Davletbekovna
Position:

Senior lecturer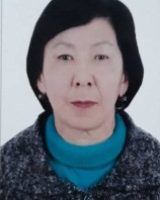 Moldokulova Lena Dolonovna
Position:

Senior lecturer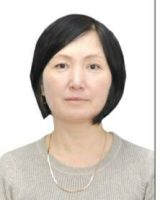 Baigazieva Nurgul Kubatbekovna
Position:

Senior lecturer
Dyushekeeva Aizada Kubanychbekovna
Position:

Senior lecturer
Elgondieva Toktobubu Abdykerimovna
Position:

Senior lecturer
Sydykova Zhyrgal Zhapyshovna
Kachkinbayeva Rakhat Sultanbekovna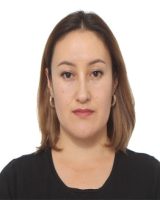 Teshebaeva Dinara Turgunbayevna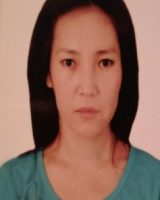 Mamytkanova Elena Asrankulovna
Baibolova Asel Dogdurbayevna
Position:

senior laboratory assistant
Brief history
The Department of Foreign and Latin Languages has been functioning since 1939, since the foundation of the Medical Institute (now Kyrgyz State Medical Academy named after I.K. Achunbaev). The first head was the senior lecturer V. V. Gunn-Mulman (1939-1946). In the following years, the department was headed by E. A. Pishe, A. M. Savrutskaya and A. I. Gladilshikova.
From 1977 to 1998, the department was headed by Ph. D. prof. Tursunaliev T. T., a well-known methodologist who made a great contribution to the development and improvement of teaching methods not only for foreign languages, but also for Latin, author of English textbooks for Kyrgyz schools. He had excellent teaching and organizational skills. Under his supervision, the teachers of the department worked on the research topic "Didactic and linguistic foundations of teaching foreign and Latin languages".
Senior teachers of the department, who made a great contribution to the process of teaching foreign and Latin languages to students, clinical residents, postgraduates and applicants, were Friedman F. Ya., Kaufman S.A., Stroilov L.F., Tarskaya L. F., Kenzhebaeva U. K., Cheptsova L. A., Kulachenko I. I., Kozhinova T. V., Asanalieva E. U., Mambetova R. A., Umarbayeva S. A., Orozbakova A.O.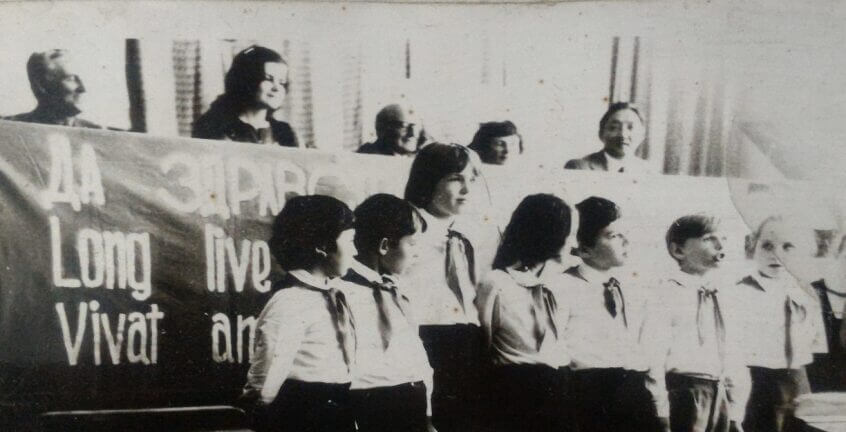 The department of Foreign, Latin, Russian and Kyrgyz languages was headed by Ph. D., Associate Professor Tuleeva Ch.S., in 1999 was headed by Ph. D. Koichumanova N. M. In 2005, there was a reorganization: the division into the Department of Foreign and Latin languages and the Department of Russian and Kyrgyz languages. Since 2005, the department is headed by Associate Professor G. S. Zamaletdinova, an excellent worker of Public education and Public Health, awarded with Certificates of Honor from the Ministry of Education and KSMA, she was trained in leading universities in the United States and England, and in 2018, for the achievements in the field of pedagogical activity, was awarded a diploma and a gold medal of the Congress of Teachers of Kyrgyzstan.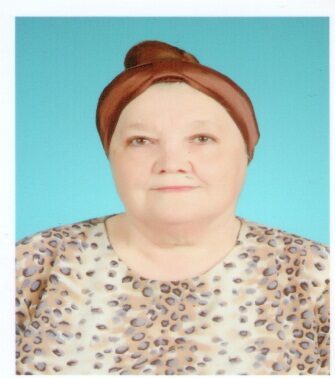 Now, 12 teachers work at the department: 1 associate professor, 6 senior teachers, 5 teachers and 2 senior laboratory assistants. Teachers of the department conduct classes in Latin, English and German of KSMU, as well as in groups of graduate students, clinical residents and applicants, to prepare them for passing the candidate's minimum exams in foreign languages.
Since 2020, the department has been training groups of KSMU faculty members to improve their knowledge of the English language.
Disciplines
English language
German language
Latin language
General Information
Every year, faculty organizes inter-faculty competitions in Latin and English languages, quizzes "Impassable path in medicine without Latin", student conferences at the Department, international friendship evenings.
Scientific Activity
Under the supervision of the head of the department prof . Zamaletdinova. The department's staff is working on the research topic "Formation of professional foreign language competence of medical students" within the framework of which over the past 3 years about 30 methodological manuals and recommendations have been published, including "Dictionary of medical abbreviations" (Authors Zamaletdinova G. S., Moldokulova L. D.), "English textbook for doctors" (Author Zamaletdinova G. S.), "Kyrgyz-Russian dictionary for dentists" (Authors: Amiraev U. A., Zamaletdinova G. S.).);
All teachers of the department of Foreign and Latin languages participate in different international symposiums, round tables, conferences held in our republic and abroad. Every year teachers of department take part in international conference "Days of Science" held our KSMA. They make reports on different linguistic problems at this conference.
From 2015 to 2017, the department participated in the Tempus program "Teaching foreign languages for professional purposes". Within the framework of this program, a Language Learning Center has been established, located in morphological building: The Tempus program is funded by the European Union and is aimed to supporting the modernization of higher education in partner countries from Eastern Europe, Central Asia and Azerbaijan. 14 computers, a server, a printer, a projector and a document camera were received through Tempus. In addition, the head of the department, Associate Professor Zamaletdinova G. S., senior teachers Moldokulova L. D., Elgondieva T. A., teacher Teshebaeva D. T. participated in seminars on the Tempus program in England, Estonia, Azerbaijan, Tajikistan and Kyrgyzstan.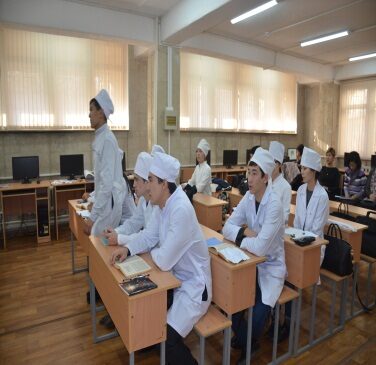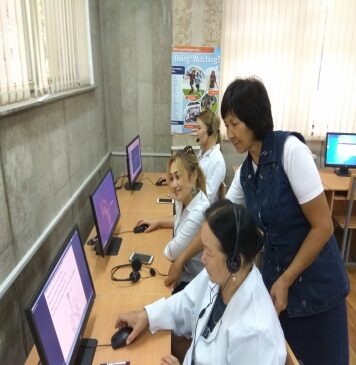 The department has clubs in English, German and Latin, whose members speak at the department conference with abstracts and participate in Olympiads in English and Latin. The members of club participate in students scientific conferences, Olympiads and festivals held in our Republic and abroad. Lectures Teshebaeva D.T., senior lecturer Baigazieva N. K carry out scientific work. Then are post-graduate of NAS in the nearest future they are going to defend their theses.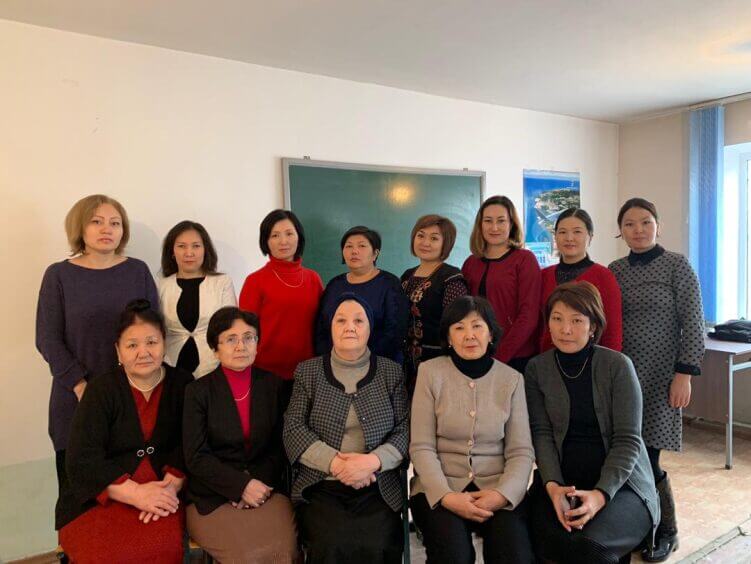 Teachers of the Latin language section with participants and prize-winners of the Latin language Olympiad