Department of Obstetrics and Gynecology No.1
Department Staff
Makenzhan Musuraliev
Position:

Head of the Department
Aigul Kangeldieva
Academic degree:

Doctor of Medicine

Position:

Assistant
Aisha Ryskulova
Academic degree:

Doctor of Medicine

Academic title:

Assosiate Professor
Raikhan Seitova
Academic degree:

Doctor of Medicine

Academic title:

Assosiate Professor
Tatiana Teppeyeva
Academic degree:

Doctor of Medicine

Academic title:

Assosiate Professor
Salima Djetigenova
Academic degree:

Candidate of Medicine

Academic title:

Assosiate Professor
Brief history
Department of Obstetrics and Gynecology of KSMI was founded in 1941. Great contribution to the development of Obstetric and Gynecological science was made by the first scientists of this profile, who headed the Department in different periods of time - Professor M. I. Vydrin (1941-1944) and Professor L. E. Gurtova (1944-1948), Professor M. N. Lehtman (1954-1976), Professor I. M. Lebedeva (1976-1992).
Currently, since 1992, Head of the Department is doctor of Medicine, Professor, corresponding member of the Independent Academy of Sciences (Moscow, 1992) Makenzhan Musuraliev.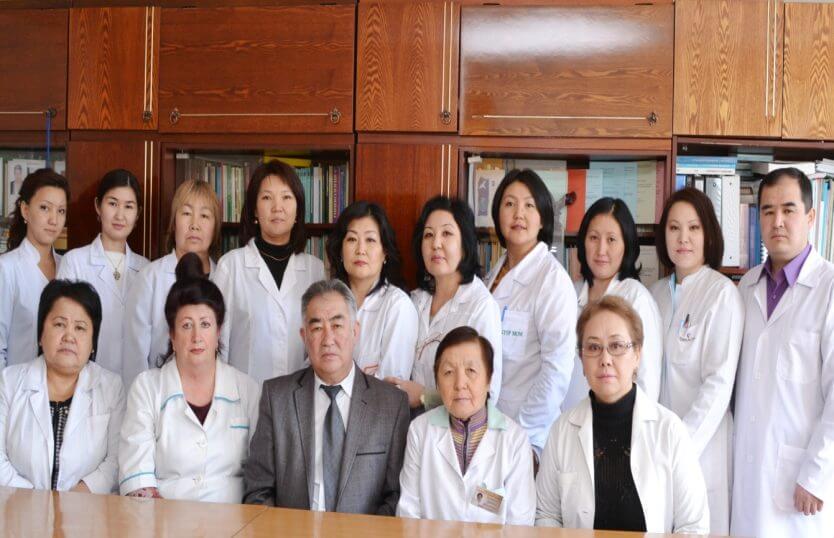 Disciplines
Obstetrics anf gynecology
Scientific achievements
12 candidates of Science and 6 doctors of Sciences were trained at the Department:
A. K. Sharshenov, 2001;
B. A. Kakeev, 2007;
G. J. Beishembieva, 2011;
E. H. Khushvahtov, 2012;
A. Makingan uulu, 2016;
A. T. Baigazakov, 2017.
In total, more than 700 scientific works were published, including monographs, manuals and training manuals for students and doctors in obstetrics and gynecology, 9 patents were obtained.
Over the past 5 years, 128 publications have been published, including 5 monographs, 3 patents have been obtained, 4 training manuals, 17 guidelines and developments have been prepared. 27 conferences and seminars were held, 3 doctoral theses were defended.