Press Office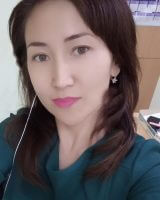 Oskonalieva Raushan Ataibekovna
The Press Office of KSMA was established in 2006 in order to cover the activities of the University in the media. It also liaises with the press services of the relevant Ministries and Departments, the editorial offices of print and electronic publications, television and radio.
The Press Office produces a quarterly newspaper "Daryger". The composition of the editorial Board is approved by the order of the Rector of the Academy.
The staff of the press service consists of two units – a press Secretary and an Assistant.
Press Secretary-Pazylov Abibilla, works from 2012. He is a journalist. Member of the Union of Journalists of the USSR (Kyrgyzstan) since 1986, member of the Union of Writers of the USSR (Kyrgyzstan) since 1988. Author of several books and collections, plays and scripts, literary translations, as well as numerous publications published in the Republic and abroad.
Assistant –Oskonalieva Raushan Ataibekovna, works from 2018. She is a journalist.