Higher Nursing Education
Contact details
Staff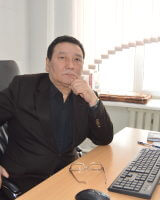 Sharshembiev Dzholdosh Asangazievich
Academic degree:

Doctor of Medicine

Academic title:

Professor

Position:

Dean
Dzhusupbekov Samat Dzhusupbekovich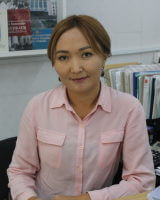 Brief history
In order to implement the Decision of the Board of the Ministry of Health dated December 23, 1997 Protocol No. 15-2 "On the reform of education in medical schools of the Republic" at the Academy was established the Nursing Center with the Department of Nursing. The establishment of the Center was dictated by the need to train nurses of a new type using international standards.
The center was subsequently renamed the Institute of Nursing, since 2007 it was renamed to the Faculty of Higher Nursing Education.
From 2004 to 2010, the Dean of the faculty was Ph.D., associate Professor Kakeeva Aigul Askarovna.
From 2010 to 2011, the Dean of the faculty was doctor of medical Sciences, Professor Bakasov Stalbek Sabdrakunovich.
From 2011 to 2015, the Dean of the faculty was doctor of medical Sciences, Professor Abilov Bolot Aripovich.
From 2015 to 2016, the Dean of the faculty was Ph. D., associate Professor Musurkulova Bubalima Avlabekovna.
From 2016 to 2017, the Dean of the faculty was Ph. D., Mambetova Madina Kubanychbekovna.
Currently, the Dean of the faculty "Higher nursing education" is MD, a Professor Sharshembiev Dzholdosh Asangazievich.
General Information
The faculty trains qualified pedagogical and management specialists with professional competence in the field of patient care and skills of effective management, the ability to rationally use resources and a clear organization of work of the personnel of health care institutions of various profiles.
In 2002, the first graduation of specialists with high higher nursing education in the number of 31 people took place. Currently, 97 students study at the faculty of "Higher Nursing Education".
The staff of faculty is a team of highly professional, competent specialists, including managers in the field of nursing.
Tasks: Training of qualified nurses of a new type-nursing managers. Introduction of new technologies and principles of evidence-based nursing practice in teaching nurses using international experience of medical education. Introduction of new methods of teaching nurses. Implementation of the provisions of the "Concept of development of nursing education in the Kyrgyz Republic" in the process of training nurses.
Directions of research: the Current state of nursing in Kyrgyzstan and ways to achieve the highest efficiency and quality of nursing care in the modern socio-economic conditions of the Republic.
Graduates of the faculty are assigned the following qualifications: nursing manager, nursing teacher.
The standard term of training is 5 years on the basis of secondary education.
Form of training: grant and contract.
Type of training: full-time.
Tuition fee: 1-3 courses - 26350 KGS
4-5 courses - 25000 KGS