Center for the Study of Foreign Languages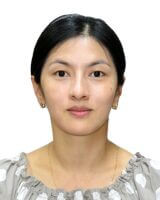 Kyrgyzbaeva Kanzada Rahmanalieva
Brief history
The center was established in 2016 with the support of the Tempus program in the framework of the project "Teaching foreign languages for professional purposes". Center for the Study of Foreign Languages is a structural unit and operates under the patronage of the Department of Foreign and Latin languages and the Department of International Relations. The center has a license №LE160002496 to conduct educational activities (order of the Ministry of education and science of the Kyrgyz Republic №1023/1 of June 29, 2016., Protocol No. 1-11-24 of 27.06.2016) -
"English", "German"
1. (Elementary, A1)
2. (Pre-intermediate, A2-B1)
3. (Upper-intermediate, B2-C1)
The Center offers demonstration classes, open classes, quizzes, student scientific conference "Digestive system", open lessons: "Nerves system", "Respirator system", "Vitamins", as well as quizzes "Medical education in Kyrgyzstan and Russia", "Healthy lifestyle", "Nutrition", "Antibiotic", science student conference "Tobacco and health", the Olympics "Best of the Best" as well as the testing of teachers, leading classes for foreign citizens in English.
The center has textbooks, audiovisual materials for training groups:
-12 file-lessons at primary levels, 10 file-lessons starting from Intermediate level;
-Updated texts inspiring students to interesting conversations;
-English spoken today;
-70-90 minutes of new video;
-interactive exercises;
-materials with video, audio-grammatical and lexical, exercises to work on pronunciation, as well as texts for reading and listening;
-workbooks; tests and audio materials that help students identify their own mistakes and workout, receiving the necessary recommendations;
-Oхford Online Skills Program-is a universal program for all adults English language .
-there are tests to determine the level of foreign language proficiency for teaching staff - 500 questions for students -500 questions.